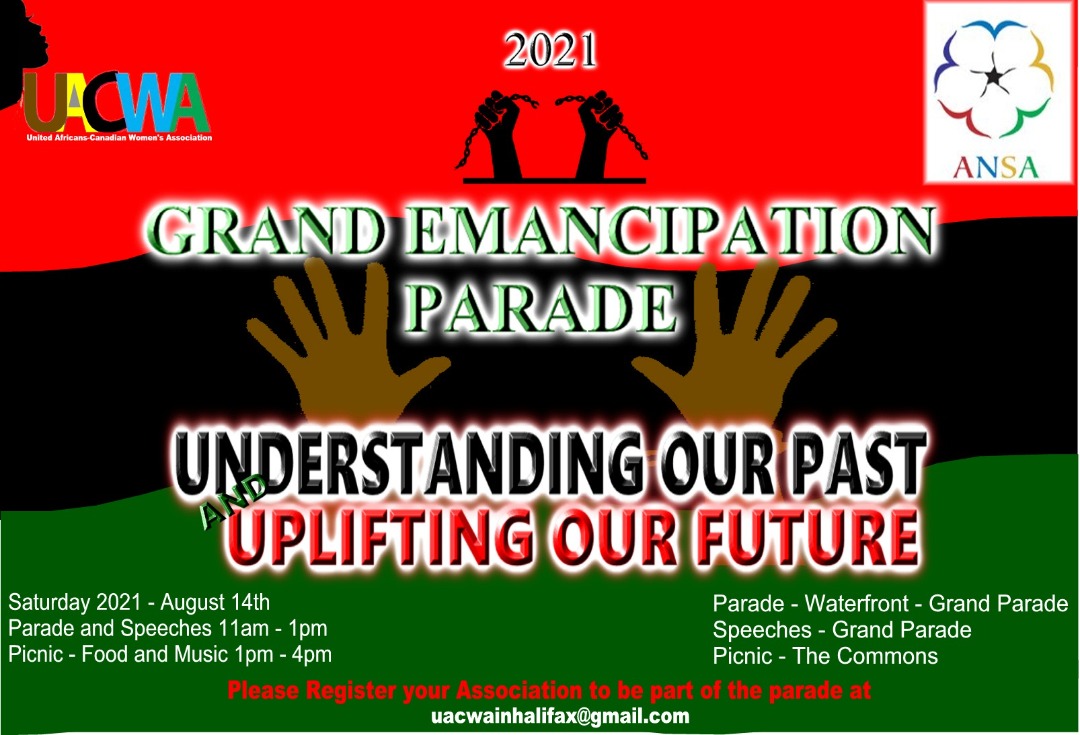 Grand Emancipation Parade
1230
1230 people viewed this event.
The United African Canadian Women's Association (UACWA), in collaboration with African Nova Scotia Affairs (ANSA), is calling on all  Black Organizations to be part of a Grand Emancipation Parade on August 14th 2021 to Commemorate and Honour "The Struggles for Freedom Black People Experienced in the past……"
Our Theme – Understanding our Past and Uplifting our Future.
The parade, which will be a colourful procession of different Black  organizations and groups, will start at the Queen's Landing Wharf (The  Waterfront), at 11am, proceed to the Province House, and then to the Grand Parade for a 1-hour event of speeches, poems, drumming, and  recitals. We will be having an after-parade picnic at the North Commons grounds between 1:00pm and 4:00pm. Food and Drinks will be provided.
Our Goal is to get as much representation as possible from all the black communities in Nova Scotia to be part of this Inaugural event.
Please register your organization by emailing the following to  uacwainhalifax@gmail.com:
1. Organization:
2. Address:
3. Number of people representing the organization:
4. Contact's name and phone number
Please note that only registered organizations will be allowed to join the parade. We are encouraging all groups, organizations, and associations to register on or before the August 10th 2021.
For more information regarding the event please contact Daphne Daisy During by email at: uacwainhalifax@gmail.com or by phone on 902-237-5644.
All covid 19 protocols will be observed.